Plunder in Pandemic: Kashmir's Green Gold Continues to Bleed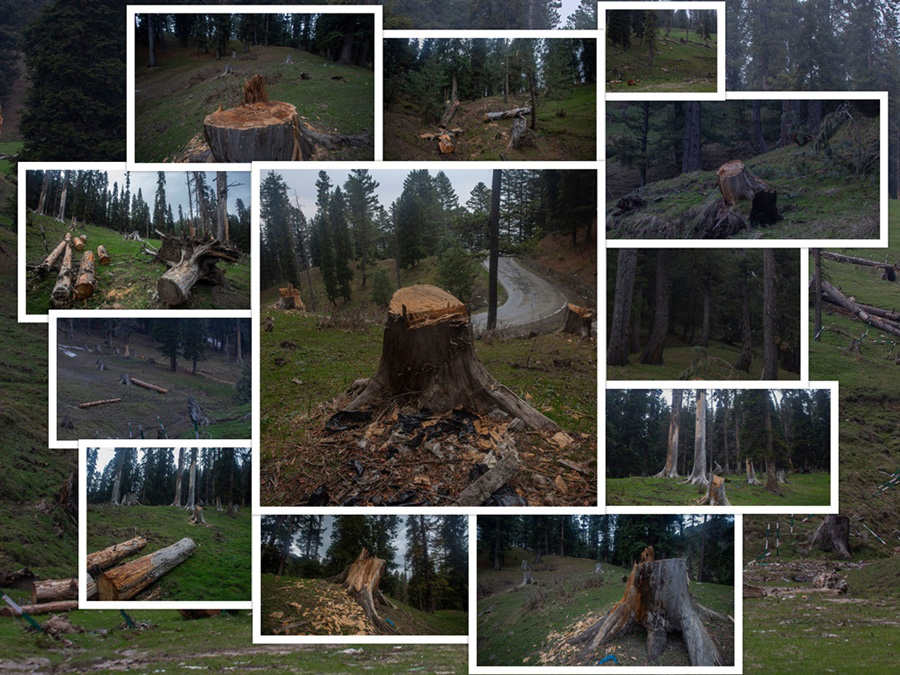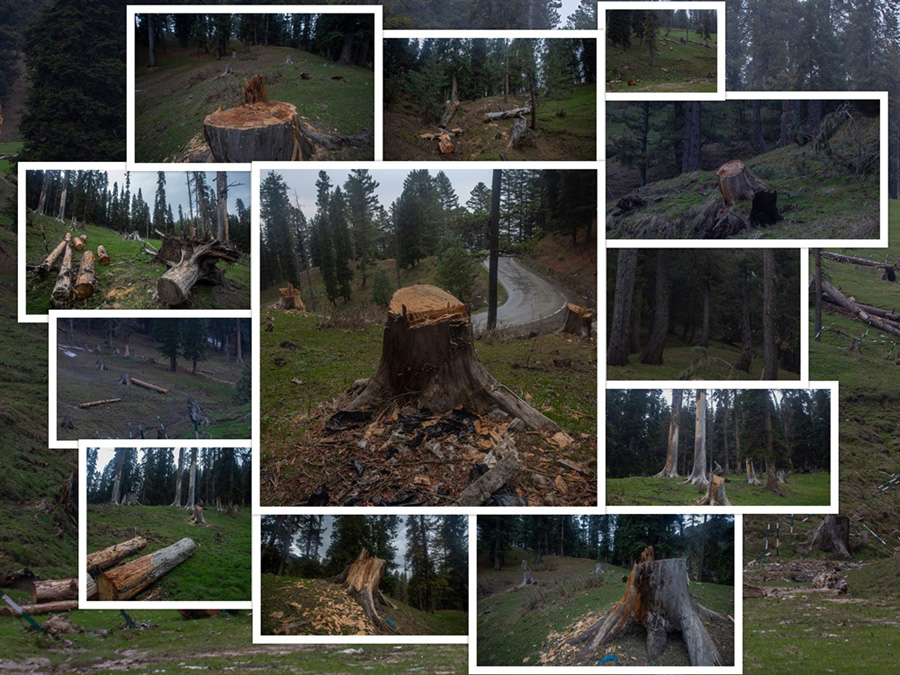 Amid pandemic, smugglers and timber mafia seem to have a field day in Kashmir forests. Even as the plundered sights constantly fare online, the officials are maintaining a poised position on the critical matter.
a time when forest watchers and wardens are fighting flames in Zabarwan Range, Kashmir's virtual space is bleeding with the green gold. Pictures showing chopped trees have once again surfaced online after reports of unabated axing came from north Kashmir's Uri town.
Right under the nose of forest guards, a report said, the timber-smugglers are hacking the forest in a highly militarized zone falling in the close range of Line of Control (LoC). These looters were seen selling the booty in the nearby villages.
Taking serious note of the report, many netizens shared the wrecked wood scenes on their social media handles, making many believe that the valley has become a 'plundered paradise' in pandemic.
Sharing a picture of a ravaged forest site, a netizen named Sumaiya wrote: "In Botingu Sopore, all green trees chopped off."
Kashmir's award-winning photojournalist, Altaf Qadri, shared another pillaged photo, with a striking caption: "This is what's they've done in Tosémaidan."
As the disturbing trend gained mass and momentum online, many more came forward with disquieting visuals. One such image came from north Kashmir's Bungus area. "This is what they are doing in Bungus," a netizen wrote.
KO Investigation
Notably, axe had started falling on Kashmir forests as early as in April 2020 — when the valley was yet to complete a month under the Covid lockdown.
Acting on ground leads, KO team visited the Tangmarg-Gulmarg stretch to witness what looked like the tree massacre scene. It was April 16.
The following collage of a dozen plundered pictures captures the crisis on the ground.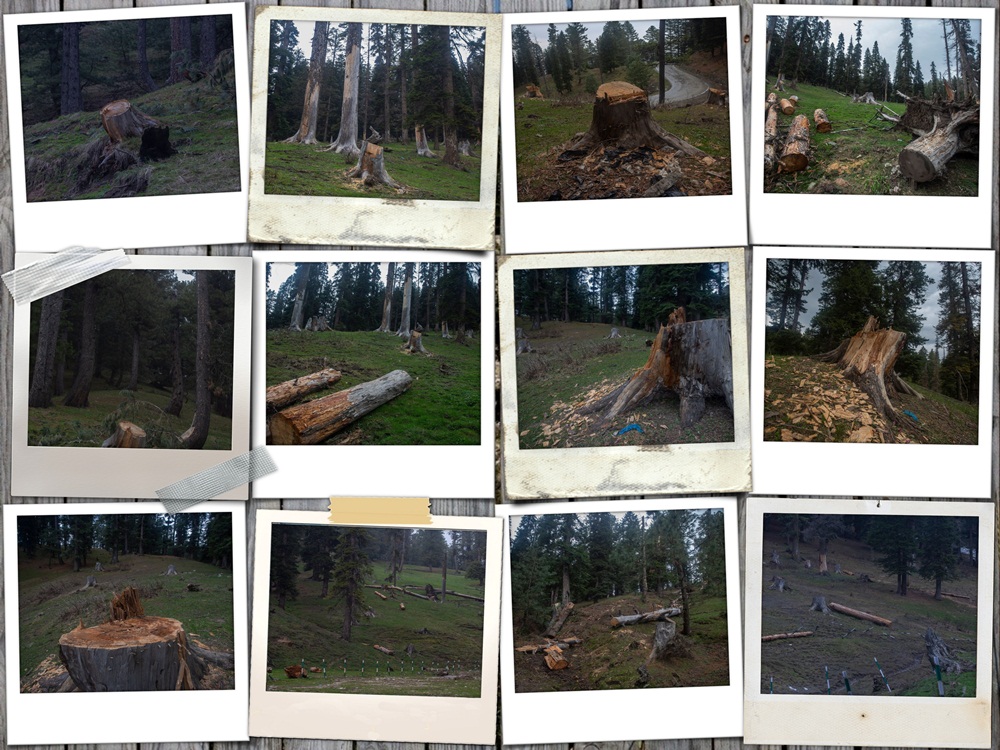 'Things Under Control'
Despite the screaming evidence, even gathered by district commissioner Pulwama during his surprise forest visit in the district during the early phase of pandemic, many forest officials term the situation under control.
"There was a spurt in smuggling in the beginning of the Covid lockdown, but things are under control now," Irfan Rasool, Forest Conservator for North Kashmir, told Kashmir Observer.
"They [smugglers] are the people who've lost their jobs in tourism sector and are forced to do such things during the lockdown."
So far, Irfan said, the forest department has seized 4,342 cubic feet of timber from smugglers, as well as confiscating 13 vehicles and 41 horses, and filing 103 police reports against 306 culprits involved.
"Timber smugglers largely took advantage of our ground staff's inability to reach far-flung areas in the initial phase of Covid lockdown," Mohit Gera, Principal Chief Conservator of Forests, told Kashmir Observer. "Our workers, who initially took part in the Covid fight back, are now resolutely patrolling and guarding our green gold."
But despite this routine patrol, and launching a mobile app and toll-free number—for locals to report real-time timber theft—persistent smuggling cases are posing some serious questions on the department's defense mechanism.
On August 13, Mohammad Sayeed Beigh, a Bandipora-based journalist, uploaded a video on his social media account, showing how smugglers have left behind blazing stumps in a forest. The billowing smoke was seen from the main town in Bandipora.
"Morning scene Chiternar Forest (timing 6:15 am Dated 13/8/2020). Burning of an uprooted tree. Major portion of the tree is missing. And yes our DFO office and Historical Forest training school is there," Beigh wrote.
'Insider Involved'
But while the spike was always there, said Mushtaq Pahalgami, Kashmir's prominent environmental activist, the cases have just come in the limelight due to pandemic.
"There's always an insider from the department helping such mafias in smuggling the timber," Pahalgami told Kashmir Observer.
"I'm not saying that the entire system is involved, but there's always someone helping these mafias from inside in order to get few benefits out of it. It's a huge web."